From Silicon Valley to Moove-IT
Gabriela Isnardi
February 17, 2011 |
2
min read
We are doing a good job, that's right, but Michael Staton and Howard Kao from Inigral did not exactly decide to move to Uruguay and work from here now on, they just paid us a one week visit, and worked with us like any other member of the Moove-iT team. The Schools project is exciting itself, but having Howard and Michael here made us feel it even closer, and the boundaries between Inigral and Moove-iT were sort of a blur, for good.
Correct me if I am wrong, but I am really positive we have made them feel at home.
We worked for a week straight, but we also had time to have fun.
No doubts about it, having visitors from around the globe is always refreshing and truly motivating…
Let me tell you why.
We conduct daily meeting with clients from different countries. Most of the times we use skype, and we are about 4 or 5 people in the same room, talking in English, though our primary language is Spanish. On the other end, there is a person whose native language is generally English, but who is normally thousands of miles away, many Fahrenheits apart and only a few hours ahead or behind us. We rarely use a camera, so we do not even know what the room he or she is in looks like.
I believe that the third dimension is definitely more important than we might think. And being in the same room with someone whose voice is extremely familiar to us, and has been part of our work lives for over an year, but whose looks, posture or gestures we used to have little or no idea about is just fantastic. We shared this sort of energy and connection you could only generate when meeting in person.
The truth is we all love to put a name to a face.
And this time we had two new faces to look at, to talk to and to laugh with. In the flesh we met Michael and Howard.
THANK YOU!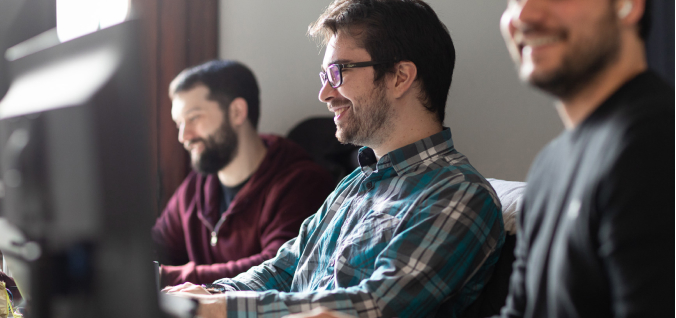 Get our stories delivered to your inbox weekly.