Awards
2
 min read June 21, 2022
Follow us on
Carin Carlin is Moove It's Communications Specialist. A graduate of Texas State University with a degree in Media Communication and Public Relations, she joined Moove It's marketing team in early 2021. Carin specializes in social media content creation, copywriting, and more.
We're proud to announce that we've recently been recognized as one of the top 10 places to work for women in Uruguay, by the organization Great Place to Work!
At Moove It, we're passionate about encouraging more women to join the technology industry.  Over time, we have continued to strengthen our commitment to creating change. From initiatives such as our 2022 MooveCamp, to empowering female Moovers to grow professionally in a welcoming and healthy work environment, we hope to continue to be a source of support for women everywhere.
As a way of celebrating this recognition, we decided to share a recent interview with one of the hardworking women at Moove It, Aswathi Nambiar.
Introducing one of our Moovers, Aswathi Nambiar
Aswathi has been with us here at Moove It since October 2021. In the time she has been with us, Aswathi has left a huge impact on our team. She has helped scale our US team by hiring new teammates, has been a crucial part of the development of our up and coming US office, and has helped create and maintain our culture and values in our US team after being remote for so long.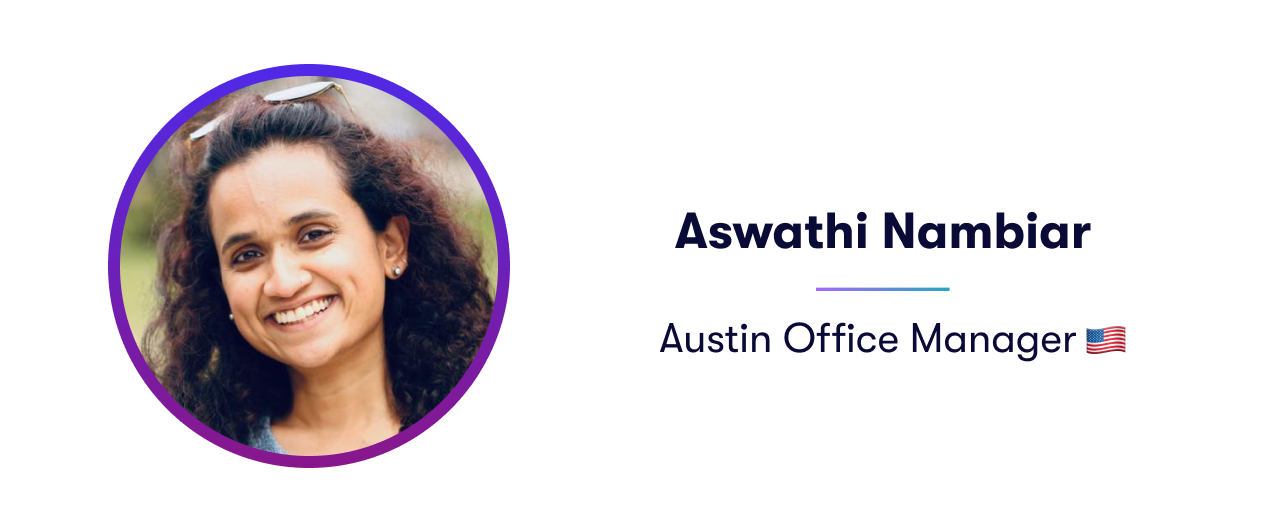 What motivated you to choose and pursue your career?
My choice of career path happened very organically for me. I decided to major in tourism for my MBA, and that is when I realized I love the humane element in business and decided to do additional graduate work in human resources. The administration aspect of my job keeps my organized self satisfied, and the people element in human resources makes me happy and keeps me on my toes.
Did you face any setbacks for being a woman while studying and/or working?
While working in the tourism industry in India, I missed some great opportunities due to my managers having safety concerns about sending me to certain destinations. I believe a lot of challenges for women still exist such as safety, and we will need to provide continuous efforts to address them.
What do you like about your job?
I love where I am right now in my career. I have been given a lot of opportunities to learn, grow, and evolve here at Moove It. I love listening to people share their stories, their perspective on lives, and their experiences while interviewing. It's interesting to me that these are people who I have never met and may never meet, with a lot of the tech industry being completely remote now.
What barriers do you face today?
One of the barriers I face is having to balance my family, my career goals, and my ambitions on a daily basis. There are days when I feel like I ace everything, and then there are some days I completely fail, but struggling helps me remember that it's a part of the process. 
What would you tell your 10 year old self to empower her?
Fall in love with yourself, and don't be afraid to say no. I would also tell her to go easy on herself, and to believe in herself, because she has the power to change the world.