The Moove It's customer-centric model with an NPS of 82.02 certified by PwC
Gabriel Fagundez
December 28, 2020 |
4
min read
Since our foundation 15 years ago we have been proud of the feedback we have received from our clients. We have always received great comments regarding the quality of our work, how we approach problems as a team, and the way in which we grow our partnerships with our clients throughout their business lifecycle. We have also been aware of our errors. Every time we made mistakes in the past, we spent a reasonable amount of time figuring the real root of each problem, absorbing our inefficiencies with each affected client, and ultimately showing that we are a trustable partner. During all these years, we have accompanied many clients in their journey from their first days of life through the transformation to be recognized as a successful company in their own industry.
Our customer-centric approach allowed us to transform ourselves and learn from each experience, growing to a 150 people company that is building products for a great variety of clients in a wide range of industries, including Healthcare, Fintech, Entertainment, Education, IoT, Real Estate, and even other smaller, as Computer Software, Chemicals, or Hiring & Recruiting.
We are proud to be helping amazing startups, industry-recognized companies, and Fortune 500 companies disrupt their industries while improving people's lives around the world.
However… Were our impressions real?
We were encouraged by the consistent positive feedback we received from our clients, but we wanted to look deeper so we started to investigate if there was a good metric we could use to accurately measure our client's satisfaction. That's why 2 years ago we decided to start measuring our client satisfaction using the Net Promoter Score (NPS). 
The NPS is the percentage of clients rating their likelihood to recommend a company, a product, or a service to a friend or colleague. It has been widely adopted by Fortune 500 companies and other large organizations, and it is based on a simple question: 
How likely is it that you would recommend our company/product/service to a friend or colleague?
Based on the answers to this simple question, you can calculate a number in the range of -100 to +100, which in turn gives you a measure of your client's satisfaction with the provided service. The higher the Net Promoter Score is, the happier the different clients are with the quality of your service.
Our latest score is amazing: 82.02 without any detractors
Measuring the NPS consists of several stages, in which different roles are involved. At a glance, we first put together all the different clients that were exposed to our variety of services during the period we are measuring. That means all the companies that we have been working with, no matter if they were using our Product Discovery services, a staff augmentation development workforce, or a solid and deeper partnership involving several roles and profiles. All were included to give a complete picture. 
Secondly, we define the audience. Our policy in this stage is simple: we include in the survey all the different counterparts, no matter what role they are playing in their company, that were exposed to Moove It's team. In this stage, we have several counterparts: C-Levels, project managers, product managers, other developers, designers, managers, and even company owners and board members. All of them share an important trait: they are interested in Moove It's quality of service to some extent. 
After defining the audience, we proceeded to send the survey by email. This process was executed by our Operations Analyst, who is also in charge of the Weekly Reporting process. 
After getting the responses, we then proceed to the calculation:
Scores of 9 and 10 are considered "Promoters". Those are counterparts that are highly satisfied with our services and are willing to recommend us to friends, colleagues, and other companies.

Scores of 7 and 8 are considered "Neutral". Even though they are not fully satisfied with our services, they are not detractors. 

Scores of 6 and below are considered detractors. This group is not only satisfied but also not willing to recommend you at all.


The final NPS is calculated by subtracting the % of survey respondents who are detractors from the % of survey respondents who are promoters. Your score will land somewhere between -100 to 100.
Our final NPS, 82.02, is a simple demonstration of the high quality of our work and a validation of our engagement model. This number puts us solidly as a high-end company that truly delivers outstanding services to our clients. Taking a look at Satmetrix' NPS Benchmark, one of the co-creators of this popular customer success metric, the NPS varies widely by industry, however, the average always stands between 0 and 60. An NPS of over 80 points is achieved only by those companies that provide a highly customized service, in which a big portion of the clients are satisfied, and it's rare to have detractors, and this is exactly where we are standing.
Auditing our process by PricewaterhouseCoopers (PwC)
Apart from providing a high-quality service, we also strongly believe in transparency and professionalism. We apply these same values, that we consider a must-have with our clients, internally as well. That's why we decided to have our Net Promoter Score survey process audited by PricewaterhouseCoopers, one of the big four.
The team at PwC has conducted a deep examination of the calculation of our Net Promoter Score and survey process, ensuring that each aspect of the process was well executed. After months of investigation, they approved it, providing us a written certification of their conclusions.
Our next challenge is to transform Moove It into a Global Software Innovation firm by 2025.
Reaching such an ambitious goal requires us to focus on providing a global service to our clients. We work with world-class companies that force us to be a best-in-class provider. We are flexible, and we learn from our mistakes. We are always pushing for ways to improve quality, and, as a client-centric company, we want every single client to feel that they are working with a company that is providing them with the technical advantage needed to make a difference in their industries.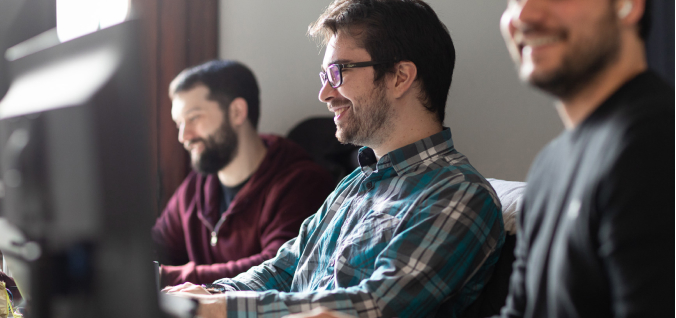 Get our stories delivered to your inbox weekly.